Miss I supported us with 3 tickets

Mx O supported us with 2 tickets

Mr S supported us with 3 tickets

Ms B supported us with 1 ticket

Mr P supported us with 1 ticket

Miss I supported us with 3 tickets
---
2d 1h 19m

21 May 2022
---
Winner! Miss O (BARKING)

Won 3 extra tickets!

Winner! Dr J (LONDON)

Won 3 extra tickets!

Winner! Mr M (ROMFORD)

Won 3 extra tickets!

Winner! Mrs B (ROMFORD)

Won 3 extra tickets!

Winner! Mrs C (Dagenham)

Won 3 extra tickets!
About us
Laura I. Art Gallery CIC provides a much loved and valued service for the community.
Laura I. Art Gallery provides access to arts programs that encourage the use of the creative process as a vehicle for healing, communication, self-expression and personal development. We are especially committed to enriching the cultural life of underserved communities by providing high-quality, meaningful, and accessible arts and culture programs and services.
Laura I. Art Gallery promotes creativity, nurtures cultural leadership, and engages people in meaningful arts experiences, bringing vitality to Barking and Dagenham communities and enriching people's lives.
Laura I. Gallery is dedicated to providing inspirational and inclusive arts projects to marginalized creatives. This organization exists to give a voice to the unheard. We believe this world can be enriched and given a voice through art. We aim to utilize art as a medium to engage, educate and express.
The Laura I. Gallery program consists of visual art events and workshops, discussion in business strategy, which includes podcasts, written articles, webinars, and panel discussions and is dedicated to producing innovative projects for artists to collaborate and engage with diverse communities locally and internationally.
The organization understands how important a dynamic street culture, living culture and a thriving contemporary art scene are to the neighborhoods within Barking and beyond.
Laura I. Gallery strives to:
- celebrate differences and similarities through a spirit of collaboration through arts
- bring greater diversity in the cultural offer
-development of new social networks and greater social cohesion opportunities
We need your help so we can continue serving our community!
Thank you for your support and good luck!
Yours sincerely,
Laura Iosifescu,
CEO of Multi-Award Winning Laura I. Art Gallery CIC
Help us share our cause on social media
How the lottery works
That's right, unlike many other lotteries, our lottery tickets are only £1 per week.
50% to your chosen cause and 10% to other causes in Barking and Dagenham.
Match all 6 numbers and you win the JACKPOT!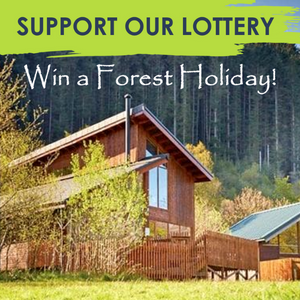 Win A £1000 Forest Holiday
Ever want to get away from it all? Well here's your chance - get your tickets before 25th June for your chance to win a fabulous Forest Holiday to the value of £1000! Choose from 12 different locations throughout the UK.