Miss K supported us with 1 ticket

Mr G supported us with 2 tickets

Mr G supported us with 2 tickets

Mr G supported us with 2 tickets

Mr G supported us with 2 tickets

Mr G supported us with 2 tickets
---
2d 23h 12m

17 April 2021
---
Winner! Mrs T (RM8 3ND)

Won 3 extra tickets!

Winner! Mrs B (HORNCHURCH)

Won 3 extra tickets!

Winner! Miss S (DAGENHAM)

Won 3 extra tickets!

Winner! Mrs Y (DAGENHAM)

Won 3 extra tickets!

Winner! Mr S (ROMFORD)

Won 3 extra tickets!

Winner! Mrs W (DAGENHAM)

Won 3 extra tickets!

Winner! Mrs S (TUNBRIDGE WELLS)

Won 3 extra tickets!

Winner! Ms M (BARKING)

Won 3 extra tickets!
About us
The Huggett Women's Centre is provided by nia in partnership with Barking and Dagenham Council for Voluntary Services (B&DCVS) and Disability Association Barking and Dagenham (DABD UK).
What we do?
There are a range of activities including regular drop-ins (Tuesdays from 10am – 12 pm and Thursdays from 2pm – 4pm) and support groups, specialist advocacy, access fo free legal advice on family law, counselling, awareness raising, lesbian and bisexual speakeasy, creative activism, yoga, learning sessions, and one off special events for all women and for girls aged 11 and above. Children are welcome to come along too. All sessions are free. To use the crèche, please contact us for availability. Activities change regularly so it is best to contact the centre directly. Come and join us. Get in touch. Get involved.
Our Ethos:
The Centre offers a vibrant, accessible and welcoming environment for all women and girls to be supported to build positive relationships and share their energy. We support women and girls to face the multiple and complex disadvantages that they experience. In particular those relating to inequality between women and men, race, class, sexuality, disability, and in particular, domestic violence, rape, sexual violence, trafficing and exploitation.This service has become a lifeline for many women and girls have experienced trauma and are trying to rebuild their lives.
What's on?
Art and crafts, Coffee mornings, Counselling, Drop-in groups, Employment skills, Focus groups, Girl's Group (11-14), Play Therapy, Mother/Carer and child stay and play, Social events, Specialist support groups (Ashiana), Support groups for disabled women (DABD), Therapeutic courses, Training to external service, Volunteering opportunities, Women's groups, Women's workshops and Young women's groups (15-18)
We need your help now, because the money you dontate will help us keep our doors open and allow us to support women and girls to rebuild their lives.
Thank you for your support and good luck!
Yours sincerely,
Ms Maria Sookias
Help us share our cause on social media
How the lottery works
That's right, unlike many other lotteries, our lottery tickets are only £1 per week.
50% to your chosen cause and 10% to other causes in Barking and Dagenham.
Match all 6 numbers and you win the JACKPOT!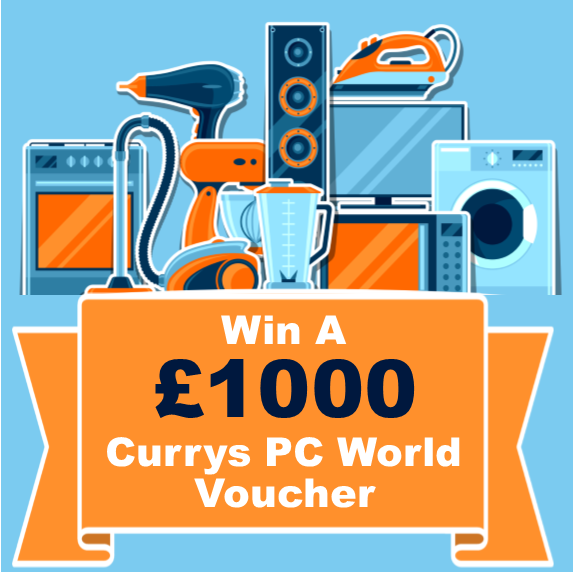 A Grand Prize For Your Home!
What would you buy from Currys PC World with a grand?
Play our lottery to directly support the local community from £1 a week. There are chances at weekly cash prizes PLUS, be in the draw on the 24th of April for your entry into the national draw to WIN a £1000 voucher for Currys PC World.