Playing the lottery
Barking and Dagenham Lottery is an exciting weekly lottery that raises money for good causes in Barking and Dagenham. All good causes supported by the lottery will benefit Barking and Dagenham and its residents.
Play the lottery, Support Barking and Dagenham - it's that simple!
Tickets for the lottery cost just £1 per week. Each ticket has a 1 in 50 chance to win a prize each week, with a top prize of £25,000! That's a better chance of winning than the National Lottery or the Health Lottery!
Each ticket will consist of 6 numbers and each number will be between 0 and 9. There will be a draw every Saturday night when a 6 digit winning combination will be picked. Prizes will be given to players with tickets that match the first or last 2-6 numbers from the winning combination. Match all 6 and you win the JACKPOT!
A full list of prizes below:
| Number of matches | Prize | Matching patterns | Odds |
| --- | --- | --- | --- |
| 6 | £25,000 | | 1,000,000:1 |
| 5 | £2,000 | | 55,556:1 |
| 4 | £250 | | 5,556:1 |
| 3 | £25 | | 556:1 |
| 2 | 3 extra tickets | | 56:1 |
Your Local Good Causes
The lottery and its prizes are our way of putting the fun in fundraising. The real winners are the good causes. From every £1 ticket sold 60p will go to good causes in Barking and Dagenham! To put this in perspective when you play the National Lottery 25% goes to good causes – we've more than DOUBLED the ticket percentage that goes to good causes.
Even better, you can choose which good cause gets 50p of the 60p (the remaining 10p will be distributed to other good causes).
Frequently Asked Questions
Q. When does the lottery launch?
A. Good causes can register now. Tickets go on sale from Tuesday 12 September and the first draw is Saturday 21 October.
---
Q. How are the good causes chosen?
A. Charities, voluntary organisations and community groups that benefit residents in Barking and Dagenham are able to register as a good cause themselves to benefit from this lottery. For more information visit www.lotterybd.co.uk/good-causes
---
Q. Who can play the lottery?
A. Players can be from anywhere in the UK to play, but must be aged 16 or over.
---
Q. What happens if a low number of tickets are sold and someone wins the jackpot? Will they still get £25,000?
A. Yes. The jackpot prize money is covered by an insurance policy. This means that in the event of a jackpot win, it is the insurance policy that pays out, not funds raised by lottery sales.
---
Q. What happens if no-one wins the Jackpot? Is there a roll-over?
A. No. The Gambling Commission does not permit roll-overs in local authority lotteries.
---
Q. What happens if more than one person wins the jackpot?
A. If there is more than one Jackpot winner, they each get £25,000, it is not shared.
---
Q. : How do winners find out that they've won?
A. Every week, all winners will be advised by e-mail. Each week the winning number combination will also be published on this website, and the Barking and Dagenham Lottery Facebook and Twitter pages.
---
Q. How many tickets does the council expect to sell?
A. A target of 735 tickets a week has been set for the first year of the lottery. But ticket sales do not affect the odds of winning a prize.
---
Q. What are the odds of winning a prize?
A. 50:1 (which includes a prize of three extra tickets for matching a two number combination).
---
Q. What are the odds of winning a cash prize?
A. 500:1
---
Q. : If my good cause gets 50p per entry, where does the other 50p go?
A. 10p is used to support other good causes within Barking and Dagenham and will be held in a central pot by the council. 20p goes to prizes and the remaining 20p is for administration of the lottery and VAT.
---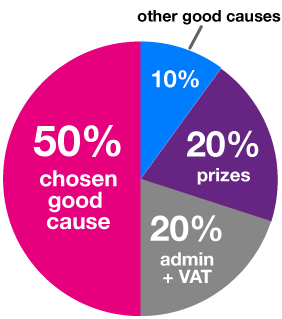 Q. How is the central pot going to be distributed?
A. We propose to evenly distribute the funds in the Central Fund Pot between all registered Good Cause Groups, BUT only on the basis that they are selling and maintaining a minimum of 20 ticket sales per week by the end of October 2018. Those not selling and maintaining 20 ticket sales per week by the end of October 2018 will not receive a share of the Community Fund Pot.
After this, the Community Fund will be offered on a grant funding basis and more information on how to apply will be made available on this website.
---
Q. How much money does the council make from the lottery?
A. None. 80 per cent of the money raised goes to good causes and prizes with the remaining 20 per cent going towards the running costs of our operator (Gatherwell) and VAT.
---
Q. How does this compare to the National Lottery?
A. 75 per cent of money raised by the National Lottery goes to prizes and good causes with the remainder going to Duty, Retailer commission and the operator (Camelot) running costs.
---
Q. Is buying a ticket online the only way to buy one?
A. No. Although this is an online lottery and that is the primary way to buy tickets. You can also call the dedicated helpline on 020 8191 7909 and buy tickets over the phone.
---
Q. : I still have more questions. Who can help?
A. Gatherwell can. They are managing the Barking and Dagenham Lottery on our behalf and there is a dedicated support number 020 8191 7909 as well as a support email address [email protected]. You can also contact them, via the Facebook and Twitter pages.
---
Good Luck And Have Fun!
We hope you'll join us in making Barking and Dagenham even better and have some fun along the way!